In visual communication, icons are omnipresent tools that enable us to comprehend and navigate various environments and concepts. Among these, travel icons play a significant role, serving as universal visual signposts in an industry marked by diverse languages, cultures, and geographies. From airplane symbols to location pins, travel icons have become part of our collective visual vocabulary, guiding us through journeys and adventures. This article aims to unpack travel icons' various use cases and applications.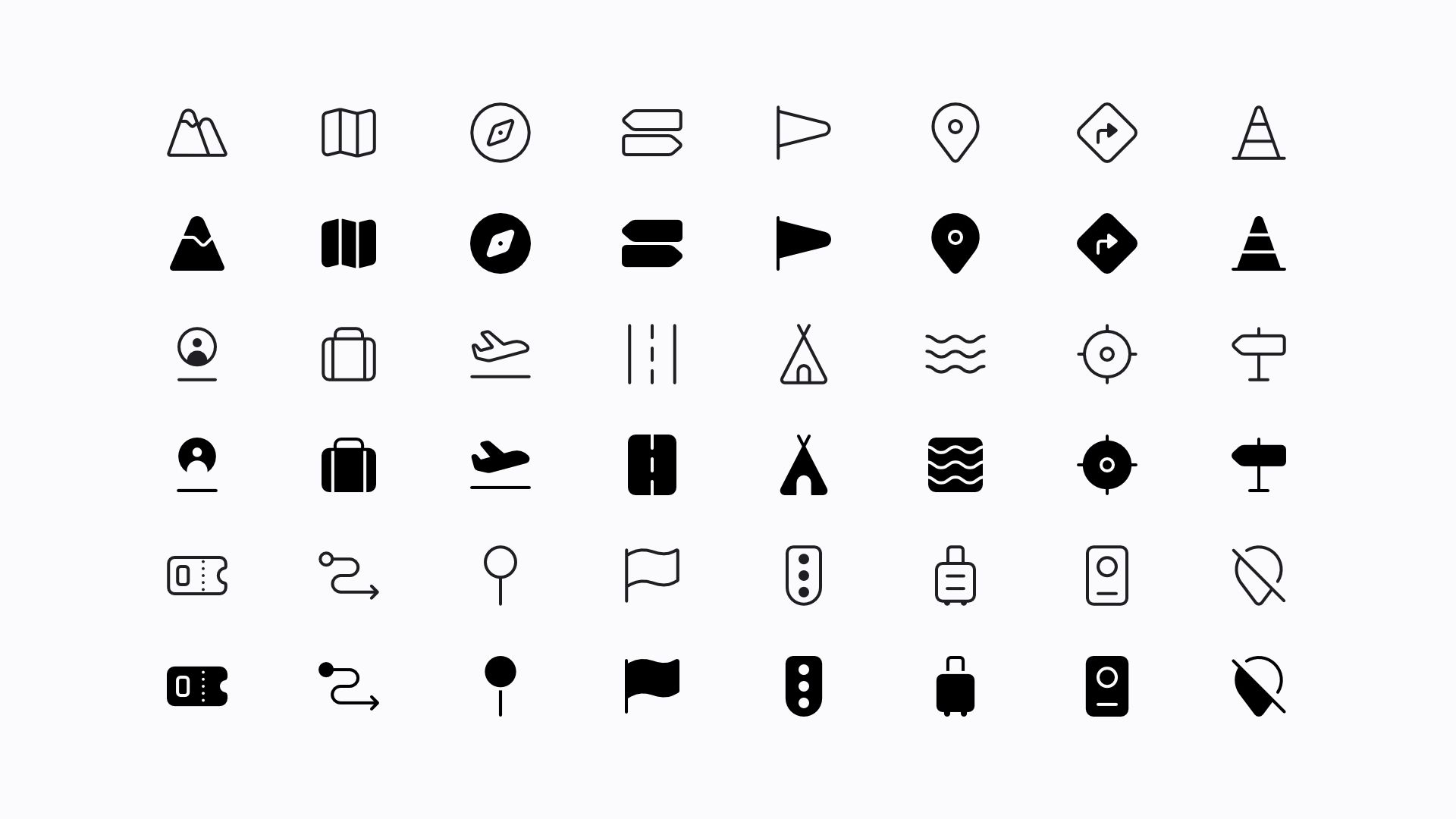 Understanding travel icons
Travel icons are simple, graphical representations of various concepts related to travel and tourism. From transportation to accommodations and famous landmarks, they are designed to be universally understood, overcoming potential language barriers to communicate essential travel-related information.
Applications of travel icons
Travel websites and apps
Travel icons are extensively used in websites and applications related to travel and tourism. They guide users through booking flights, hotels, or holiday packages and help categorize different types of destinations, attractions, and conveniences.
Airports and train stations
From check-in counters and passport control to gates, baggage claim, and emergency exits, travel icons are indispensable in guiding travelers through these transit hubs.
Maps and navigation systems
Whether physical or digital, maps frequently use travel icons to represent different types of locations or points of interest, such as parks, museums, hospitals, and restaurants. Navigation systems in cars or smartphones also use these icons to guide users to their destinations.
Hotel signage
Hotels worldwide use travel icons to indicate facilities like swimming pools, restaurants, gyms, spas, and Wi-Fi access, making it easier for guests, particularly those from different countries, to navigate their amenities.
Tourist information centers
Travel icons help streamline the information at tourist centers, aiding tourists in quickly identifying the services they need, whether guided tours, local attractions, accommodations, or transportation services.
Marketing and advertising
Travel companies use travel icons in marketing and advertising materials to visually represent their experiences. That can range from adventure activities to luxury cruises, historical tours, or beach holidays.
Travel guides and brochures
Printed travel guides often use travel icons to summarize the attractions and amenities of a destination, providing travelers with a quick and easy overview of what to expect.
Travel icons are an integral part of the global travel and tourism industry, guiding millions of travelers through their journeys every day. They form a universal language that transcends linguistic and cultural barriers, helping to simplify and enrich our travel experiences. As travel becomes more digital and interconnected, the role of travel icons is set to become even more vital, shaping the way we explore and interact with the world around us.
---
If the icons in our article caught your eye, you're in luck! You can access these and more with our Pro Plan. This plan gives you unlimited access to an extensive library of professionally designed icons, perfect for any project, presentation, or app.
Also, stay updated about our upcoming AI feature - sign up for our newsletter to be notified as soon as it launches. Your journey toward an enriched digital experience begins here.