Icons are a crucial part of web design. They are small yet powerful visual elements that can help users quickly navigate your website or app. Icons represent anything from a menu item to a social media link. They are also essential to branding and can help make your website or app more memorable.
Choosing the correct icon style for your project is a considerable decision. It can transform complex functions into simple visual cues and transcend language barriers. Regardless of your field of expertise, it's essential to understand how the right icons contribute to creating an intuitive and engaging digital environment.
In this article, we will cover everything from the different types of icons to how to choose the right one for your project. Whether you're a web designer, graphic designer, or developer, this guide will help you decide which icon style fits your needs.
Choosing the right style for your project
Flat icons - Simplicity that speaks volumes
Flat icons are simple shapes and have generally bold colors. They often have a minimalist design with no shading or gradients. That makes them easy to recognize and understand - these icons are straightforward without compromising their visual appeal.

Noticon
Flat icons are ideal for websites or apps with a modern and minimalist design. They work well with flat design elements like flat buttons and illustrations. The two-dimensional style is simple enough to represent various functions, such as a home button or an edit button. Also, if you want to add a glimmer of color, this style will give a fresh feel to more neutral projects.
Outline icons - Embracing elegance and clarity
Outline icons are the most simple and clean styles of all the others. They are minimalist and have no fill. The outline can be the color of your choice to bring contrast to the other elements. An outline icon uses negative space to its advantage, making the background visible. That allows it to blend seamlessly with various design elements, making it adaptable to different design styles and color schemes. With their lightweight and airy feel, they appear less obtrusive, enhancing user interfaces without overwhelming the overall design.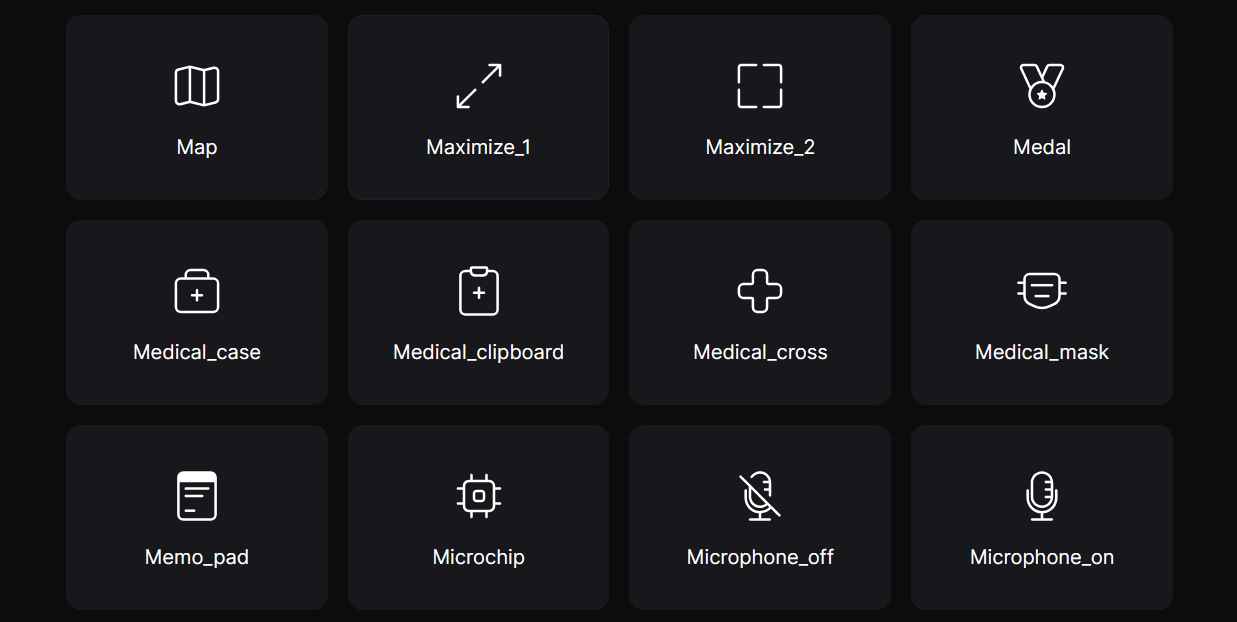 Circum Icons
They work wonderfully with clean, minimalist designs like flat icons. Still, they also provide a distinctly different visual tone, offering a sense of depth and dimension despite their monoline construction. Moreover, they serve as excellent choices for intricate and detailed work. Choosing outline icons can perfectly achieve this balance, enhancing user interaction with elegance and a unique sense of clarity.
Solid icons - Bold, vibrant, and impactful
As their name suggests, these icons are characterized by their filled, bold shapes, presenting an unmistakable, visually impactful graphic style. Solid icons take full advantage of color and contrast, creating clear and easily recognizable symbols. They can command attention and deliver their message quickly and clearly, making them popular among many web designers, graphic designers, and developers.

Phosphor Icons
If you need some eye-catching elements, solid icons work best to draw attention to specific functionalities or call-to-actions within your website or app. Suppose you're dealing with a complex user interface where essential functions must stand out; this style can help effectively guide the user's attention. Solid icons are quickly recognizable, even at smaller sizes, and can maintain their legibility despite variations in screen resolution.
Duotone icons - A symphony of two hues
These icons employ two distinct colors or shades to create a striking visual effect. The graphic style here involves one color or shade filling the symbol while the other is used to add details or highlight specific parts. Duotone icons can bring a fresh, modern twist, balancing minimalistic design and vibrant, engaging visuals. They are simple shapes and lines, like flat or outline icons, but the duotone effect adds a layer of visual interest. They convey information effectively while also adding aesthetic value to the design.

Coolicons
Duotone icons can be an ideal choice when you're looking to inject a little color and excitement into your user interface without going overboard. They offer a more vibrant alternative to single-color icons, making them great for designs that need to stand out while maintaining an air of sophistication. Additionally, duotone icons can be particularly effective when your website or app design utilizes a limited color scheme. You can choose two colors from your palette, ensuring a harmonious blend with your overall design.
Hand-drawn icons - Infusing personality and charm
Hand-drawn icons bring variety to a world where precision and pixel-perfect designs are the norms. With their unique, sketchy aesthetic, these icons are what they sound like - symbols that appear as though they've been drawn by hand. They often feature irregular shapes, varied line weights, and sometimes even noticeable sketch lines, all contributing to their distinctive and charming style. They bring a human touch to digital design, transforming a sterile digital interface into a friendly, approachable environment.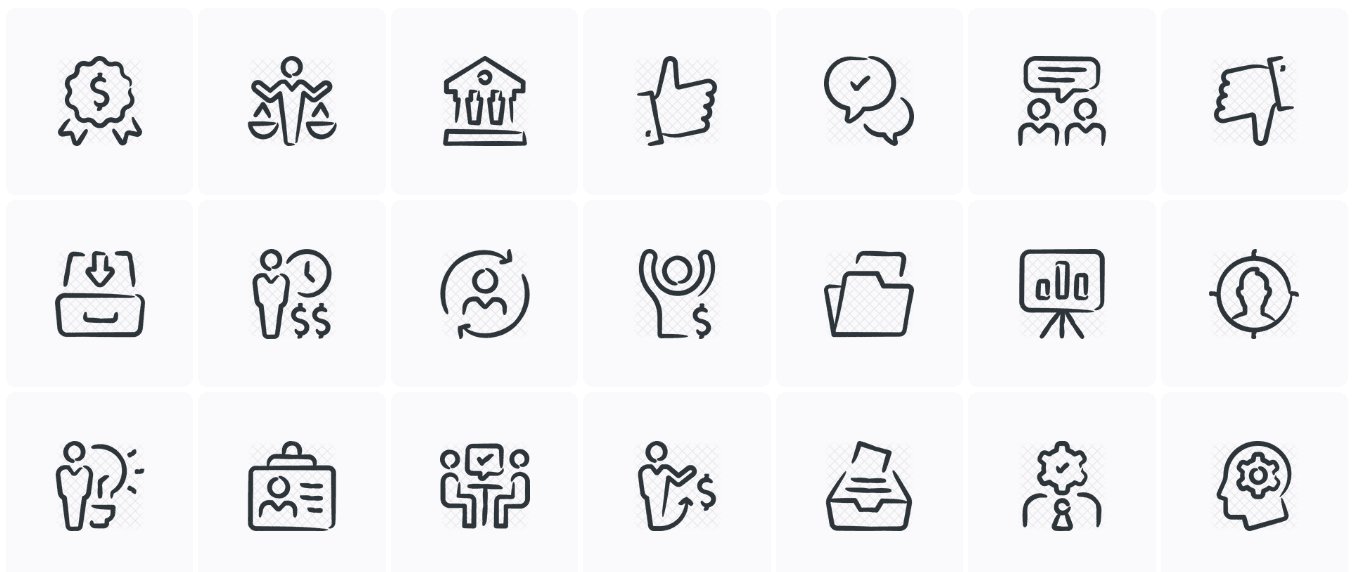 IconScout
These doodle-like symbols shine in scenarios where you're aiming to create a casual, friendly, or creative vibe. They add warmth and personality to your design, making them ideal for websites or apps with a personal, informal, or artistic focus. For example, a blog, a personal portfolio, an educational app for children, or a website for a creative agency could greatly benefit from the whimsy and individuality that hand-drawn icons provide. They can make your user interface feel more relatable and less corporate, creating a welcoming ambiance that encourages user interaction.
3D icons - Bringing depth to the digital landscape
3D icons are symbols designed with a sense of volume and perspective, making them stand out on the screen. These icons incorporate depth, shadows, and sometimes even realistic textures to simulate three-dimensionality. With their intricate detailing and immersive visuals, 3D icons can add a dynamic, tactile element to your user interface, enticing users to interact with them.

Icons8
If you're aiming for a highly engaging, interactive, and modern interface, 3D icons can be a great choice. They can bring a sense of realism to your application or website, providing a unique user experience. 3D icons work particularly well in cases where you want to highlight certain features or functionalities of your app or website. Their three-dimensional nature can make them pop, drawing users' attention. They're also popular in-game interfaces, where a more immersive and interactive visual style is often desired.
Finding your perfect icon style
Whether it's the minimalist simplicity of flat icons, the elegant finesse of outline icons, the bold visual impact of solid icons, the colorful allure of duotone icons, the delightful charm of hand-drawn icons, or the immersive depth of 3D icons, each style carries its distinct personality and usability characteristics.
However, the choice of icon style should consider aesthetics, functionality, and the overall design context. Remember, icons are there to enhance user understanding and interaction. They should seamlessly integrate with your brand identity.
In conclusion, there's no one-size-fits-all answer to icon design. It's about choosing the right tool for the right job. As web designers, graphic designers, and developers, our goal is to create digital experiences that are visually appealing, user-friendly, and brand-consistent. And with the proper icon style, you're one step closer to making that goal a reality.