In the age of digital communication and visual representation, icons are universal tools that transcend language and cultural boundaries to convey complex ideas in an easily digestible manner. Icons related to food play a crucial role in a wide range of industries and applications, serving multiple purposes. They significantly impact our daily choices, whether we are browsing a food delivery app or trying to understand the features of a kitchen appliance.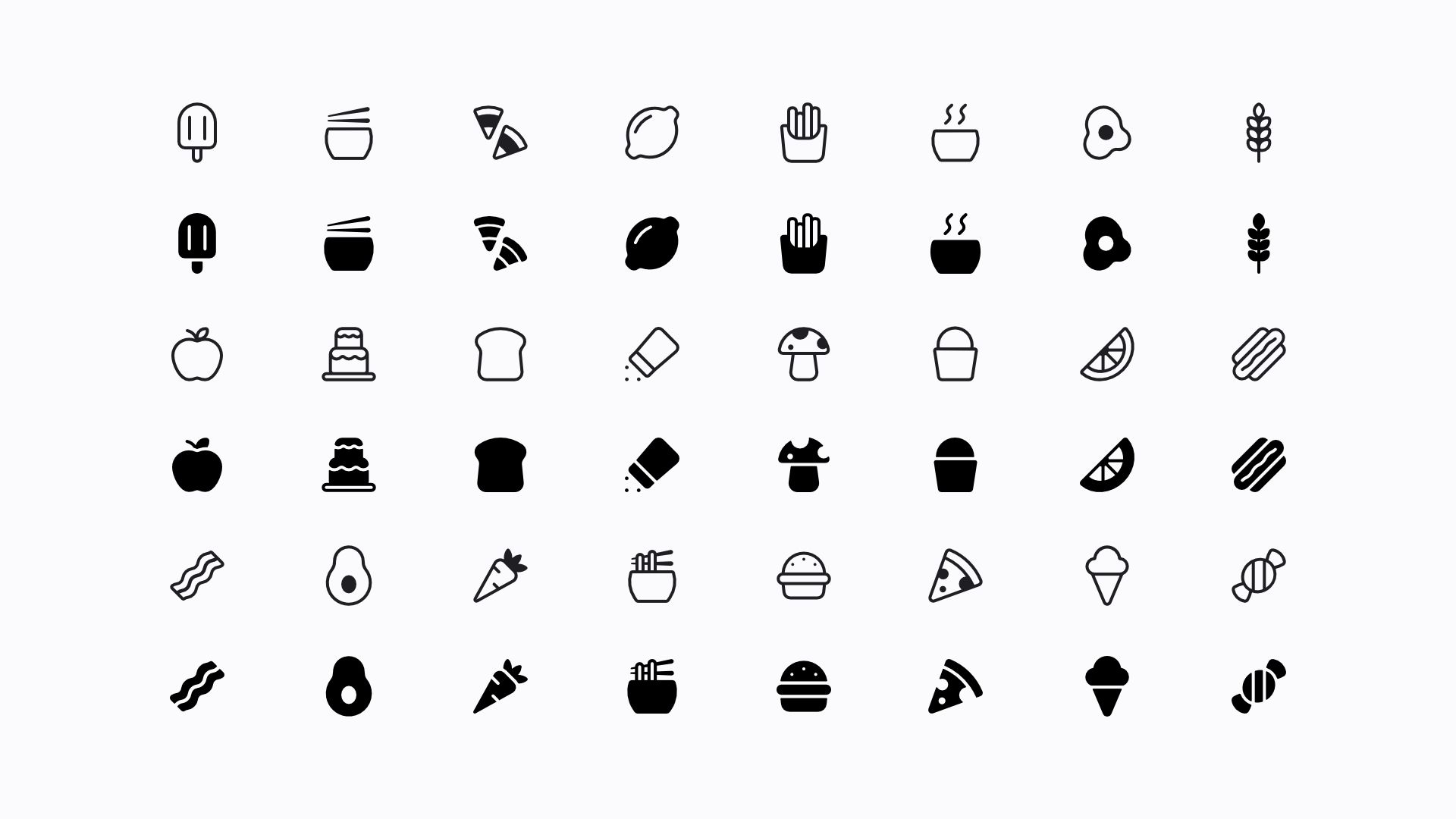 Understanding Food Icons
Food icons are simple, stylized graphic representations of different types of food, beverages, and culinary-related activities. These icons represent various foods and cooking methods, from burgers and pizzas to fruits, vegetables, and cooking utensils. Their universality enables people from diverse cultural backgrounds to comprehend the type of food or cooking process without requiring translation into a specific language.
Applications of food icons
Food and delivery apps
In this context, the icons help users navigate different food categories, identify their preferred cuisine, or understand the dietary specifications of a dish. They also assist in conveying the complexity or simplicity of a recipe in cooking apps.
Restaurant menus
Many restaurants have digitized their menus, using food icons to categorize different sections or indicate the type of cuisine. That enhances the menu's aesthetic appeal and simplifies customer understanding, particularly in a multi-lingual context.
Kitchen appliances
Modern kitchen appliances often employ food icons on their interfaces to guide users through their functions. For instance, a microwave might use a popcorn icon for its popcorn setting, or a coffee maker might display a coffee bean icon to indicate its grinding feature.
Nutrition and diet apps
Food icons are essential in these platforms to visually represent different food groups, assist users, and help track more in an engaging and user-friendly way.
Supermarkets and grocery stores
Icons related to food are utilized in the signage and categorization of products within supermarkets. That helps customers navigate the store more efficiently, especially in international supermarkets where language may be a barrier.
Food packaging
Food icons are often used on product packaging to signify certain dietary information, such as whether a product is organic, dairy-free, or contains nuts. Food icons enable customers to quickly determine if a product meets their dietary needs or preferences.
Educational materials
In educational contexts, food icons teach children about different food types, healthy eating habits, and basic cooking methods. Their visual nature aids in more effective and engaging learning.
While seemingly simple, food icons are pivotal in our everyday lives. They guide our food choices, facilitate our cooking processes, and simplify our grocery shopping experiences. By breaking down language barriers and enhancing user-friendly experiences, food icons have become integral to the global food and beverage industry. As we further advance into the digital age, the use of food icons will undoubtedly continue to expand and evolve, reflecting the dynamic nature of our food culture.
---
If the icons in our article caught your eye, you're in luck! You can access these and more with our Pro Plan. This plan gives you unlimited access to an extensive library of professionally designed icons, perfect for any project, presentation, or app.
Also, stay updated about our upcoming AI feature - sign up for our newsletter to be notified as soon as it launches. Your journey toward an enriched digital experience begins here.